Shantell Martin
Words and Lines
On View through January 31, 2021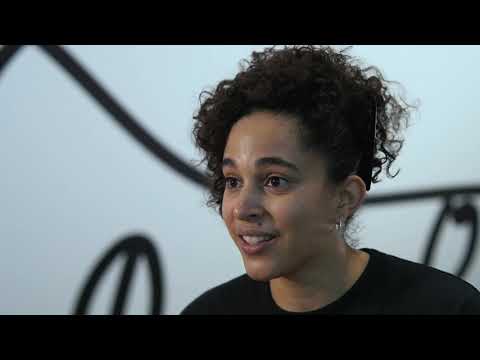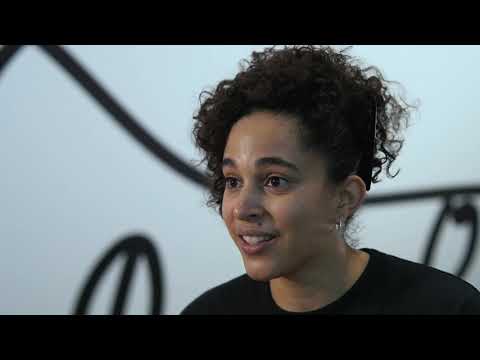 About
On View through January 31, 2021
Hamilton Building - Level 2
Shantell Martin: Words and Lines is an interactive multimedia installation featuring the work of London-born, New York-based contemporary artist Shantell Martin.
The exhibition features Martin's signature black and white drawings that explore intersectionality, identity, and play. It includes an interactive wall with triangular boxes that rotate, an animated video projection, and a third section focused solely on Martin's renowned drawings. Extensions of this installation will be visible throughout the museum, adding an element of surprise and whimsy to every visit to the DAM.
An international sensation, Martin has collaborated with iconic brands and artists such as Puma, Nike, Vitra, Max Mara, Tiffany & Co, and Kendrick Lamar. Shantell's work can be seen locally on the plaza in front of the Colorado Convention Center and all over the world, including most recently at the New York City Ballet.
Visitors can take home a souvenir from their visit to Shantell Martin: Words and Lines by visiting The Shop at the DAM. Items designed by the artist, including mugs, pins, and stickers, will be available for purchase during the run of the exhibition.
Exposición
SHANTELL MARTIN
WORDS AND LINES
Se inaugura el 27 de septiembre de 2019
Del 27 de septiembre de 2019 al 31 de enero de 2021
Edificio Hamilton, nivel 2
Incluida en la entrada general Comprar en línea boletos para entrada general.
Shantell Martin: Words and Lines (Shantell Martin: palabras y líneas) es una instalación multimedia interactiva que presenta la obra de Shantell Martin, una artista contemporánea nacida en Londres que reside en Nueva York.
La exposición presenta los dibujos en blanco y negro tan característicos de Martin que exploran la interseccionalidad, la identidad y el juego. Incluye un muro interactivo con cajas triangulares que rotan, una proyección de video animada y una tercera sección que se centra exclusivamente en los famosos dibujos de Martin. Se podrán ver extensiones de esta instalación por todo el museo para inyectar un elemento de sorpresa y diversión a todas las visitas al DAM.
Martin ha causado sensación internacionalmente y ha colaborado con marcas y artistas icónicos como Puma, Nike, Vitra, Max Mara, Tiffany & Co. y Kendrick Lamar. La obra de Shantell también puede verse localmente en la plaza frente al Centro de Convenciones de Colorado y por todo el mundo, como hace no mucho en el Ballet de la Ciudad de Nueva York.
Los visitantes pueden llevarse a casa un recuerdo de su visita a Shantell Martin: Words and Lines si visitan las tiendas del DAM. Algunos objetos diseñados por la artista, como tazas, prendedores y estampas, estarán a la venta durante la exposición.
Shantell Martin: Words and Lines está organizada por el Denver Art Museum. Recibe el apoyo de CultureHaus, un grupo de apoyo del Denver Art Museum, de los generosos donantes para la campaña benéfica Annual Fund Leadership Campaign y de los ciudadanos que brindan su apoyo al Distrito de Organizaciones Científicas y Culturales (SCFD, por sus siglas en inglés). Apoyo promocional proporcionado por 5280 Magazine, CBS4 y The Denver Post.