The Light Show
On View through March 7, 2021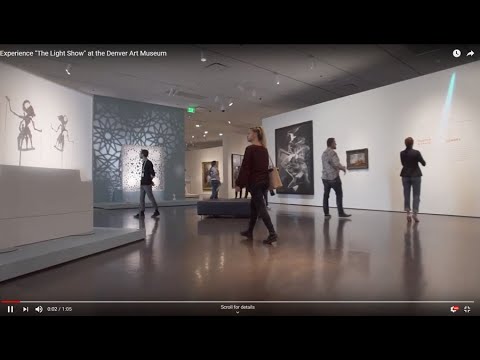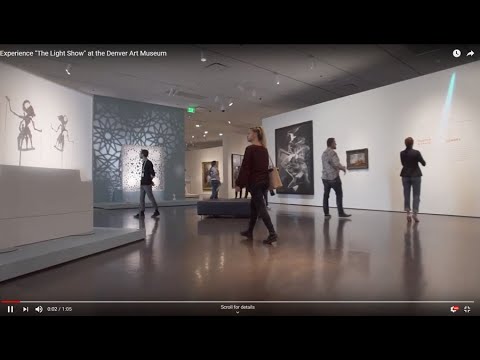 About
On View through March 7, 2021
Hamilton Building - Level 3 Hamilton Building - Level 4
The Light Show at the Denver Art Museum explores physical and symbolic representations of light in art through a thought-provoking narrative. The exhibition features about 250 objects drawn from the DAM's nine curatorial departments. The Light Show focuses on the quest by humanity and artists to understand physical light in the natural world as well as metaphorical, spiritual, and divine representations of light.
The exhibition helps visitors reflect on a variety of light-related themes through a broad range of materials and artworks, including ancient sculptures, paintings, photography, textiles, and contemporary installations.
The cross-departmental exhibition is co-curated by Rebecca Hart, Vicki and Kent Logan Curator of Modern and Contemporary Art, and Jorge Rivas Pérez, Frederick and Jan Mayer Curator of Latin American Art.
Exposición
Se inaugura el 2 de junio de 2019
Del 2 de junio de 2019 al 3 de mayo de 2020
Niveles 3 y 4 del Edificio Hamilton
Se incluye en la entrada general
Compre por Internet las entradas de admisión general.
The Light Show (Espectáculo de Luz) en el Denver Art Museum explora las representaciones físicas y simbólicas de la luz en el arte mediante una narrativa que invita a la reflexión. La exposición presenta cerca de 250 objetos tomados de los nueve departamentos curatoriales del DAM. The Light Show se centra en la búsqueda de la humanidad y de los artistas por entender la luz física en el mundo natural, así como las representaciones metafórica, espiritual y divina de la luz.
The Light Show se inaugurará en dos fases. La primera fase, centrada en la luz física, a partir del 19 de mayo, mientras que la segunda fase, que presentará la luz simbólica, hará su debut el 2 de junio.
La exposición ayudará a los visitantes a reflexionar sobre una variedad de temas relacionados con la luz a través de una amplia gama de materiales y obras, entre ellos, esculturas antiguas, pinturas, fotografías, textiles e instalaciones contemporáneas.
La exposición interdepartamental está a cargo de Rebecca Hart, curadora Vicki y Kent Logan de arte moderno y contemporáneo, y de Jorge Rivas Pérez, curador Frederick y Jan Mayer de arte colonial español.
The Light Show está organizado por el Denver Art Museum. Recibe el generoso apoyo de los donantes para la campaña benéfica Annual Fund Leadership Campaign y de los ciudadanos que brindan su apoyo al Distrito de Organizaciones Científicas y Culturales (SCFD, por sus siglas en inglés). Apoyo promocional proporcionado por 5280 Magazine, CBS4 y The Denver Post.
Childe Hassam, A Walk in the Park or Springtime in the Park (Una caminata en el parque o Primavera en el parque), circa 1900. Óleo sobre lienzo sobre panel, 14-3/4 x 21-1/2 pulgadas. Colección de Frederic C. Hamilton, legado al Denver Art Museum.
Lucas Samaras, Corridor #2 (Corredor #2),1970. Espejos sobre marco de madera; 7 x 3.063 x 50.281 pies. Colección del Denver Art Museum: donación del artista en honor de Dianne Perry Vanderlip. © Lucas Samaras.
José Inez Herrera, Death Cart (Carreta de la muerte), Nuevo México, 1890-1910. Madera, cuero, pelo, pluma, metal, seda; 48 x 211/5 pulgadas. Denver Art Museum: fondo general para adquisiciones.
El Anatsui (ewe), Rain Has No Father? (¿La lluvia no tiene padre?), 2008. Tapas de botellas encontradas y alambre de cobre; 153 x 239 pulgadas. Denver Art Museum: fondo para adquisiciones de artes indígenas, U.S. Bank, Richard y Theresa Davis, Douglas Society, Denver Art Museum Volunteer Endowment, Alex Cranberg y Susan Morris, Geta y Janice Asfaw, Saron y Daniel Yohannes, Lee Mclntire, Milroy y Sheryl Alexander, Dorothy y Richard Campbell, Wayne Carey y Olivia Thompson, Morris Clark, Rebecca H. Cordes, Kenneth y Rebecca Gart, Tim y Bobbi Hamill, Kalleen y Robert Malone, Meyer y Geri Saltzman, Ann y Gerry Saul, Mary Ellen y Thomas Williams, Nancy y James Williams, Forrest Cason, First Western Trust Bank, Howard y Sandy Gelt, Gene Osbome, Boettcher Foundation, John y Eve Glesne, The Schlegel White Foundation, Jeffrey y Nancy Balter, y Tamara Banks, 2008.891. © El Anatsui
Ettore Sottsass, Ashoka Lamp (Lámpara de Ashoka), 1981. Metal pintado; 34 x 30 x 3 1/4 pulgadas. Fabricada por Memphis Srl, Milán, Italia. Denver Art Museum: fondos provenientes de Frederick y Jan Mayer.
Fred Wilson, The Way the Moon's in Love with the Dark (La manera en que la luna está enamorada de la oscuridad), 2017. Vidrio de Murano, vidrio soplado transparente, latón, acero, bombillas; 78-3/4 x 55-1/8 x 55-1/8 pulgadas. Obra adquirida del artista y de la Galería Pace por el Denver Art Museum, 2017. Imagen cortesía de la Galería Pace ©Fred Wilson.
Ansel Adams, Moonrise (Salida de la luna), Hernández, Nuevo México, 1944. Impresión en gelatina de plata; 15-1/2 x 19 pulgadas. Denver Art Museum: fondo para adquisiciones de General Services Foundation. © The Ansel Adams Publishing Rights Trust.
Shunsho Hattori, Kazaribako "Morning Glow" (Caja de presentación (Kazaribako) "Resplandor matutino") 1999. Laca, oro e incrustaciones de concha de abulón sobre madera; 5-3/4 x 5-3/4 x 3-3/4 pulgadas. Denver Art Museum: fondo para adquisiciones de la Asociación de Arte Asiático en honor del trigésimo aniversario de Ronald Otsuka en el Denver Art Museum.